Nathan got me thinking, and when I think I search the web. In an earlier post Nathan commented about Notes encryption. Now I swear that every 6 months or so I am asked by a customer about the strength and algorithm that Lotus Notes uses when connecting over an encrypted port. I also swear I search for this information every 6 months too and I always come up with 64 bit RC 2 as the "possible" answer in
this ancient SearchDomino post
....
Well this time I searched I hit pay-dirt. Based on
technote 1097816
we get the following:
S
Encryption Strength
The first value is the key length
The second value is the algorithm
Length
128 (new in Notes/Domino 6)
64
40 (only used for R3 Int'l or WW40 versions)

Algorithm
22 = RC4
2F = RC2
A
Algorithm
4:1 = RC4
2:0 = RC2 (R3 Intl or WW40)
Now, this
is not
listed (as far as I can tell) anywhere in any help, be it admin or client. The technote also outlines how to test it and I did just that. As you can see below when I connected to my server I am connecting as 128 bit RC4.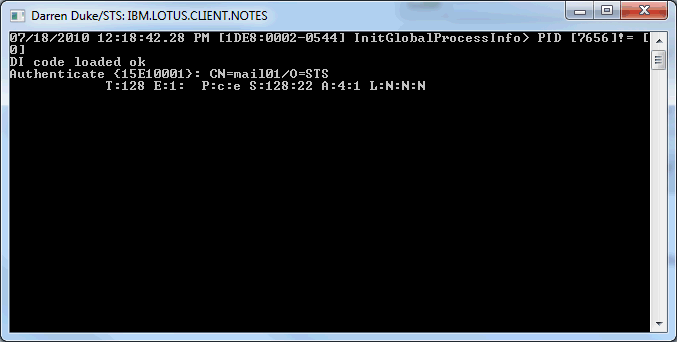 So there you have it
and why the hell is this not in the trace information or the help
?