We've been using
Lotus Quickr for Domino
internally for ages. I even went to one of the first STEWs (Software Technical Enablement Workshops) when 8.0 first came out. At
STS
we love it. We have even installed a ton of Quickr server for clients. But one of the things that never worked internally here at STS was the

option. I always figured it didn't work because we switched form LDAP to Domino and back so many times it confused the hell out of Domino and Quickr! We have a lot of places so I wasn't going to reinstall unless we lost the VMWare instance.

allows you to add users
only
for that place and it doesn't add them to the Domino Directory. Very cool. Except for the longest time it just wouldn't work. Well yesterday one of our business development people asked about sharing files with some IBM folks and they wanted to use Quickr.
I decided to try again so I did a

and added a new user to a place....for arguments sake lets call them "place user1". I'd then open the quickr URL (http://url_to_quickr/) in a browser and try and log in as "place user1" it would fail, every single time: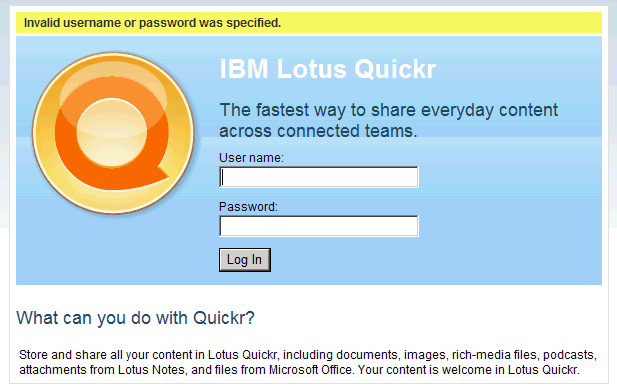 This was "normal" behavior for our Quickr servers and was about to give up and register the user via Domino admin (i.e., create a real Notes ID) which always worked. Never on to give up (one day I will blog about VMWare and the cat!) I had an idea. "What if I went to the place directly, http://url_to_quickr/placename"? Well what do you know, it logged me in as "place user1". Successfully. As it was supposed to. But just never did. Ever. Since then both http://url_to_quickr/ and http://url_to_quickr/placename both seem to work!
I'm not totally sure the above was responsible, but nothing on the server has changed or even restarted (indeed, the quickr server has been up 55 days, and this is on W32!).