I almost missed this stellar piece of news.
Ed Brill
posted his
Notes, Domino and Symphony
presentation from IamLUG. On slide 29 (shown below) there are several DAOS updates.
These are specifically aimed at streamlining replication and has been touched on by me previously both
on this blog and in Domino 8.5 PoT's. These comments were based on some public conversations I had while at LS09 with the DAOS engineers.
I was not expecting to see this 8.5.1
, but to see it is excellent news for any Domino shop doing lots of replication and/or clustering (I'm hoping clustering is also DAOS aware)..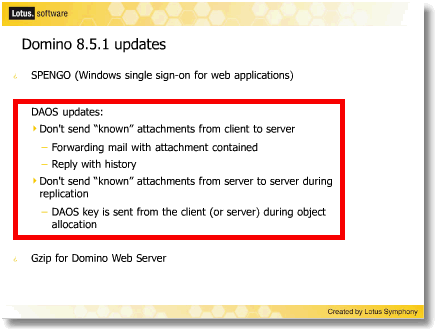 We all know the
benefits of DAOS as it exists in 8.5. Now imagine those savings across the network too! And it appears the client also has this feature too! No more waiting 20 minutes for mail to replicate in order to send that 20MB
PowerPoint
Symphony
presentation if it already exists in the repository.
Great stuff. Great stuff indeed. Once the beta's go public I'll see if we can provide some benchmarks.