So here is a comparison of Windows 7 with 3GB vs 8GB RAM. The machine is a Lenovo Thinkpad T500.
First up 3GB running Windows 7, 32 bit: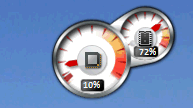 This machine runs the usual. Notes 8.5.3 + Admin + DDE, Quickr, Skype, TweetDeck Office, vSphere Client, etc. It
never
drops below 70% used with my normal day to day operation.
This same machine with 8GB and Windows 7, 64 bit (you need 64 bit to see more than 4GB RAM)....the penalty? You need to reinstall everything....but with Windows you're rebuilding your machine every 18 months or so anyway right? ;)
So with 8GB RAM it very, very rarely gets over 45% under "normal" loads, and I've yet to see it over 60% at all: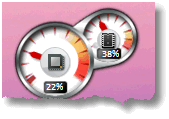 With RAM being cheap it's a simple upgrade. For the ThinkPad I got
Kingston ValueRAM 8GB PC3 SODIMM kit from Amazon for $36.99
(a kit of 2 x 4GB), obviously check what RAM your computer needs, and how much it can take first.