A long time ago, before IBM came down like a hammer, there was a podcast. We really enjoyed doing This Week In Lotus, but it became a bit untenable as IBM threatened all kinds of stuff (including revoking *my* Champion status.....) so we stopped. But IBM kept doing "WTF?" kinds of things.....canceling 9.0.2, going to fix packs only, spreading Java 8 out over a year (from now). After getting together at MWLUG, Stuart and I started to reminisce and we started thinking about saddling up again.
So we did.....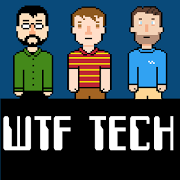 Except this time there are some notable changes:
New name, WTF Tech,
There are three hosts now. As noted in the last ever TWIL, Jesse Gallagher joins the team. He's funny so he offsets Stu, and he's knowledgeable so he offsets me.
Focus has moved from IBM. I would not say IBM are irrelevant (yet, in fact Episode 001's title comes for IBM), but we've expanded out reach. No one is safe.
There will be no guests. So no more shitty audio from guests who never RTFM and had no headphones.
It will not be weekly. We're thinking every two weeks, but some weeks will be barren and others (like this last week) will be a perfect storm.
There will be tips, so don't worry. And snark. No point doing it if there wasn't snark.
So what are you waiting for? Head on over to
http://wtftech.fm/
and join the fun, and be sure to follow
@wtf_tech
on Twitter.