To my complete shock I actually like Windows 7, however after a few weeks I have to say I am having a
lot of issues
with the new security dialogs. Look closely and you will see Microsoft have changed the "question" and what a user should "answer" in order to allow "blocked" content to run. Below is an example of the Sametime integration applet with iNotes 8.5: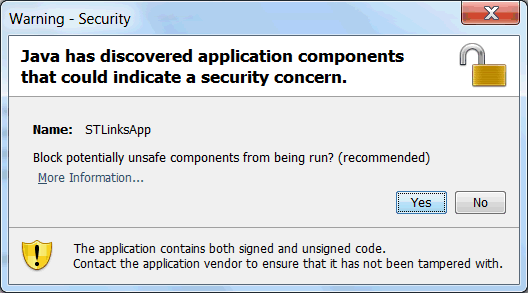 To get the content to run in Windows XP you'd click "yes", not so much in Windows 7.....read the message again if you don't get my drift....see it? In Windows 7 I have to answer "No" to get the content to run.
I'm shocked MS changed this. It took me a while to figure out why LotusLive Meetings would not work as I was automatically choosing "Yes" (to the old XP question, "Do you want to run this content?"). I can only imagine what users will start clicking once Windows 7 starts to roll out in organizations.
In effect the transition from XP to Windows 7 MS have made Yes = No and No = Yes. *shakes head*