Good news
The speaker evaluations for the 2008 BlackBerry Developer Conference are in. And I got pretty good feedback from the attendees. There were 53 attendees at my session. Here are the feedback numbers: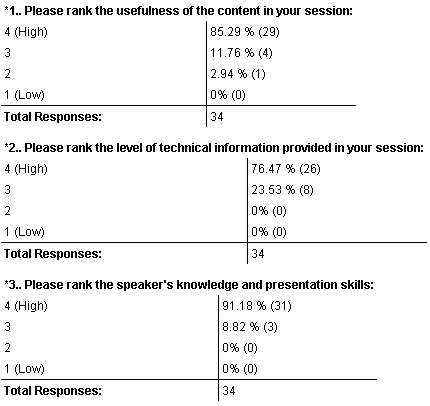 Also, all the the additional comments were really upbeat:
I'm sure I've said this before, but thank you to RIM for inviting me, and to all the attendees.
Bad news
Like others on the yellow side of the wibbly wobbly web, I had my Lotusphere abstract rejected. I didn't get a reason, but I'll give my reason why it was wrong to reject me ;)
I think it was a mistake rejecting it (well, I would now wouldn't I) but it was about extending applications from Domino to the BlackBerry using MDS and hence, making the platform even that more sticky.
Now, I'm sure some are thinking sour grapes, and that maybe a small piece of it, but in reality the BlackBerry is a crucial piece of the Domino portfolio or maybe someone more knowledgeable than I has a similar session at LS09. It would be nice to know. Oh, and I am still going to LS this will in no way affect that. My participation at a conference is in no way tied to me getting a freebie.
Bottom line
If you are looking for a Domino and/or BlackBerry speaker for your conference feel free to contact me.