As I mentioned yesterday, I have completed my move to
Serdar Basegmez's new Bootstrap powered DominoBlog template
. In little over 3 hours of total work (most of that was figuring out what Serdar had done in the DominoBlog config document) it is now live....well, you can see that right?
If I was to do this again, I'd most likely get Serdar's template themed the way I want it, then copy all my blog posts and comments to the new NSF. I didn't do that and it borked comments for while.
Since yesterdays post, there has been some obvious "Why didn't IBM do this?" conversations. Honestly I don't know why. They should have. A long time ago. The underlying blog code (by Steve Castledine) is still, even today, an epic example of Domino coding. But since it's original release as the DominoBlog template in R7 it has languished at the hands of IBM (ahem, like the Domino Web Admin Client?). Until now, and yet again a community member shows what can be done if you have the desire (which obviously IBM didn't). Also, no XPages were harmed in this facelift, proving that you can modernize anything in Domino as is.
Here is the old look: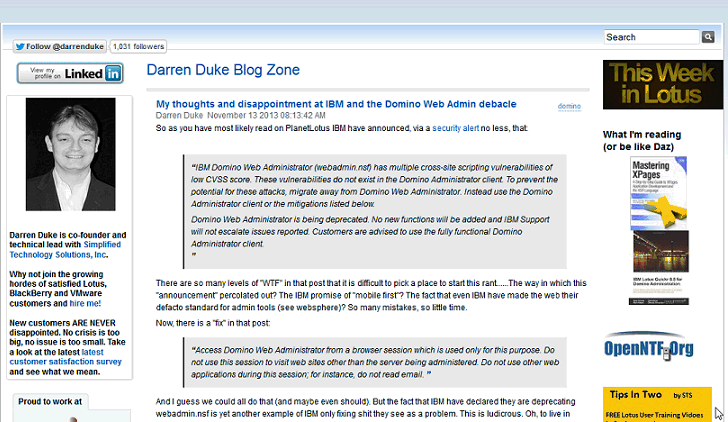 There are a few issues I'm still trying to work through.....for example in FireFox you don't see the correct Glyphicons at the top. In Chrome and IE you do, but other than that it seems great:

Another great side effect of Serdar using Bootstrap is that the blog looks gorgeous on a mobile device. Here is an iPhone screenshot: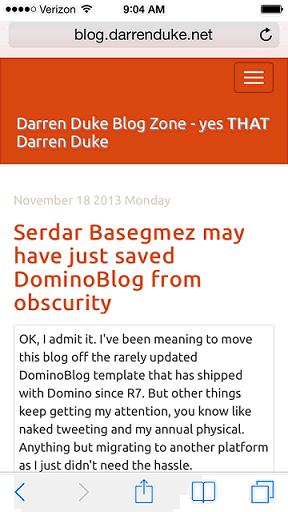 I got my theme from
bootswatch.com
who have 10+ free Bootstrap themes available.