OK, I admit it. I've been meaning to move this blog off the rarely updated DominoBlog template that has shipped with Domino since R7. But other things keep getting my attention, you know like naked tweeting and my annual physical. Anything but migrating to another platform as I just didn't need the hassle.
Well, it looks like my 3+ year procrastination has finally paid off. You see Serdar Basegmez has done a brilliant job of
integrating Bootstrap into DominoBlog
. I requested he send me the code via the comments on that post (although admittedly he didn't seem to take my proposal of marriage all that seriously) which he did. And very quickly at that.
About 3 to 4 hours of tinkering later I now have this very blog using his customize DominoBlog and BootStrap in a test NSF. I then went and sourced an open source (free) BootStrap Theme and plugged it in. Voila, DominoBlog that not only looks great and is easy to customize but also looks right on mobile devices.
Give me a day or two and my blog too will be all sexy and modern (like yours truly, but with sexy and modern). In the mean time here a screen shot of the blog-to-come: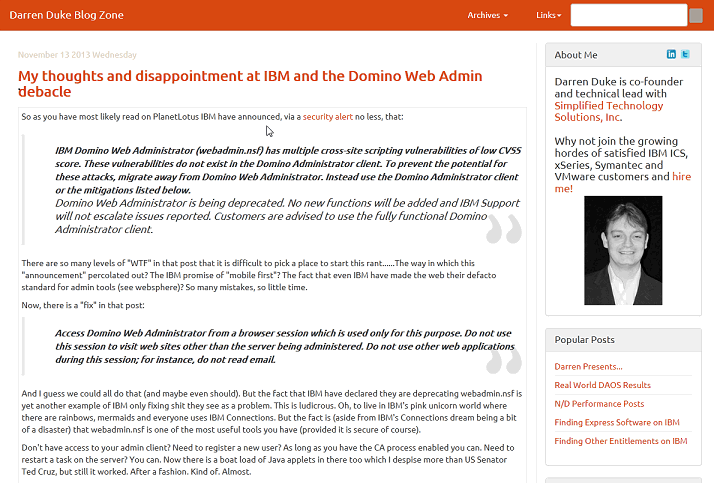 Serdar has done a phenomenal job. Every bit a Champion.