I never ceases to amaze me how Domino administrators are so loathe to move users to a local replica model. If you are not on a LAN with the server, switching to local replicas can
really improve
the user experience.
If your Lotus Notes is slow, and you admins allow it switch to a local replica and enjoy Notes performance the way it should be. I'm going to assume you already have a local replica of your mail file on the computer.
1) Open the advanced view in the local address book (now called contacts):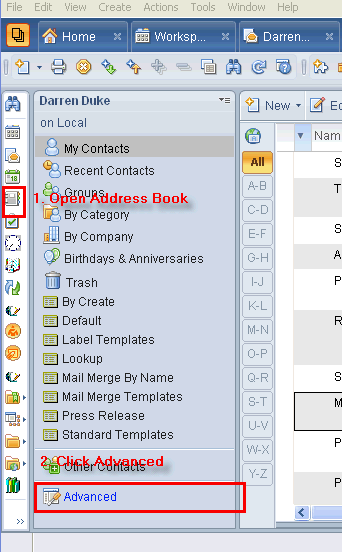 2) On the left navigator select "Locations". Copy and paste the "Online" location document (you can right click and select copy, then right click again and select paste), if you have been upgraded from R6 or R7, it could be called "Office (Network)":

3) Edit the either copy of "Online"
4) Under the Basics tab, make the location name meaningful:

5) Under Mail tab, change the mail file location and enter (if different) the local mail file replica path: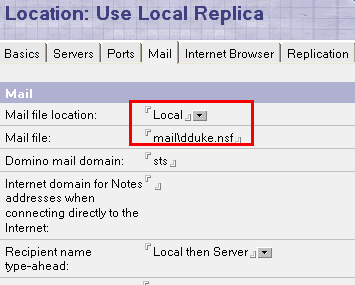 6) Under Replication tab, setup as follows: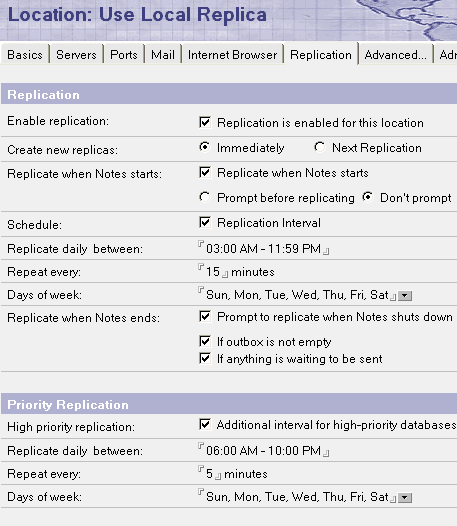 The above will replicate every 15 minutes for all databases, and 5 minutes for "high priority"
7) Save and close the newly created "Use Local Replica" location. Exit the contacts database.
8) Close all mail and calendar tabs, and select the new location: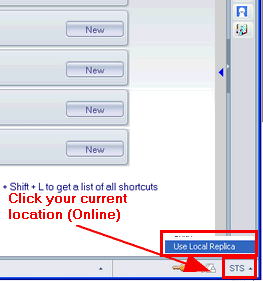 9) Your Notes screen should now look like this: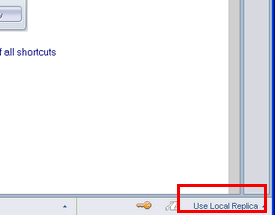 10) Open the replication settings page and ensure your mail file is selected for high priority (every 5 minutes) replicatio:

11) Ensure scheduled replication is enabled so new mail will be automatically pulled down to your local mail replica. If scheduled replication is disabled you will see this: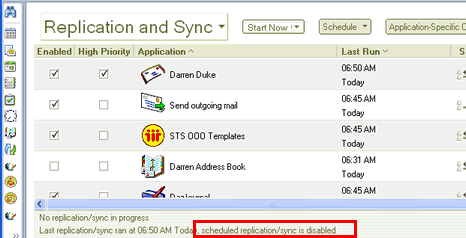 To enabled it, click on the Schedule button, and select "Enable":
12) Finally, to ensure mail you send is replicated to the server immediately, open File/Preferences and select Locations. Highlight your new location and hit Edit: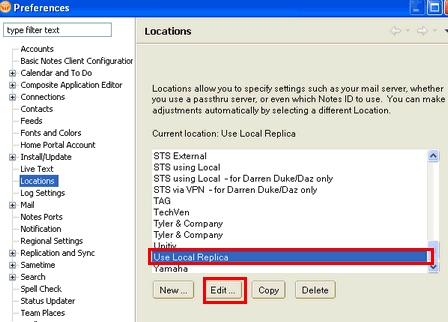 Change the Mail tab as shown below: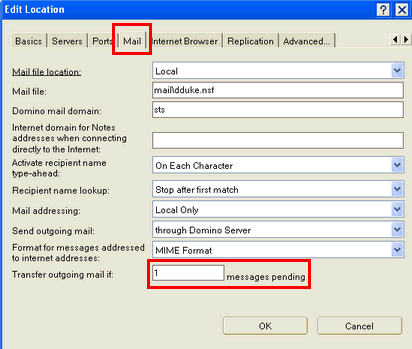 Hit OK and OK again to save these changes.
Voila, you are now using a local replica and should enjoy much improved speed of Lotus Notes if you work outside the office.
Every time you are out of the office, simply switch to you new location. When you are back in the office, switch back to "online".