I say this a week or so ago but was in the middle of teaching a Domino PoT. It is good to see IBM have made it far simpler to get all of the relevant and applicable fixes. As usual these are available from
IBM Fix Central
.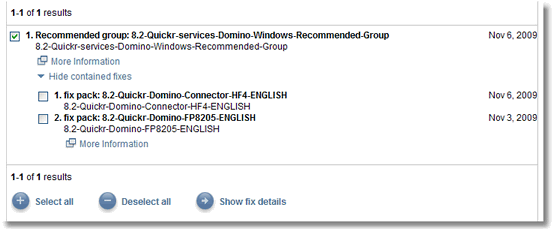 Quickr Connector HF 4 (8.2.0.177) includes:
Send a Link email text confusing - We made changes here to allow one our customers remove the text that is sent when using the "Send Link" function to create an email link to a Quickr document.
Outlook 2007 crashes the second time an email/editor is closed - To reproduce this issue open any email in Outlook 2007, close the email and then reopen any email. Prior to this fix Outlook should crash
Grammatical mistakes in connectors q820.desktop - This just fixes a grammar error in one of our error messages.
Files dragged from Namespace into Outlook email are corrupted q820.desktop- To reproduce this problem drag and drop a Quickr document over 65k in size from Explorer into an Outlook email. Prior to this fix all documents over 65k were being truncated.
An issue was also addressed where Notes could fail to start after a crash with the Connector's installed though no pmr was opened to track it.
I find it amusing that in the accompanying Word doc the "Gramatical" fix verbiage has a error it.
Quickr 8.2 Fix Pack 5 (8.2.0.5) contains:
10/20/2009
JRIE7VZM44
When MS Word document is Checked In with Options and the location changed to the Table of Contents, when choose More Actions / Download, the attachment is a jpg, not the doc file.
10/20/2009
KSAA7W8BMN
In certain circumstances, selecting Next in My Places to show the next page of places does not work correctly for Super Users.
10/20/2009
MPUL7WEG76
User selected time zone not honored consistently in a place via the web UI.
10/20/2009
MALZ7W5NRC
In certain circumstances, logging in as a superuser can cause the Domino server to crash.
10/20/2009
BTLW7WL4UF
Advanced Search across All Places returns a 404 error.
10/20/2009
DAMY7WSV4P
When versions are enabled, workflow approval process does not allow an approver to modify the document.
10/20/2009
TJOR7W7NWZ
Adding approval process to a custom form causes previously-submitted documents to become unusable.
(see fix TJOR7W7NWZ in "Additional Information for special fixes" section)