September 11 2008 Thursday
At the house we have terrible coverage from every carrier (we have tried most of them). We live at the bottom of a hill and are surrounded by very big pine trees. Needless to say we get dropped calls, switched between roaming and home, etc, etc.
Well, Sprint have just release the
AIRAVE
a "signal booster" device. Now, I've tried a lot of these devices and most just have dual antennas that amplify the carrier signal. Fine, except I don't have a good carrier signal so none of them worked very well. Sceptical I was.
The AIRAVE is a bit different. It acts a bit like Vonage, in that it uses your Internet to send calls to and from the Sprint network, not an amplified carrier signal. Then the AIRAVE is the "cell tower" that your phone connects too.
And it works!
Unlike anything else I have ever tried I now have a full five bars on my trusty Sprint BlackBerry 8830 anywhere in the house. Even in my home office which is in the
bunker
basement.
If you have coverage issues in a building I'd suggest calling your Sprint rep and getting hold of one of these babies. At $99 it is a steal compared to the other "solutions" I have tried. There are a few different plans, I went with the $4.99/month plan with uses my cell minutes when calling, but there are plans which allow for unlimited AIRAVE use without impacting your minutes.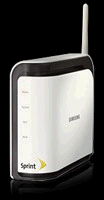 Oh, and don't forget to activate it. It won't work until you do that.
And yes, T-Mobile do the UMA thing, but not all devices support that...and I like the data speed of CDMA networks.
If you are a business in the Greater Atlanta area and do not have a current Sprint business rep, I can recommend a gentleman by the name of Moe Ilyas. Email Moe at moe.ilyas@sprint.com or call him at 404-931-7090.