I have many issues with SocialBizUG. Many, many, many, many. Did I say many? Too many to write about, especially as Twitter has removed any capability I ever had to write long form blog posts.....
Anyhow. One issue I have is outline below and that has consequences for the community at whole.....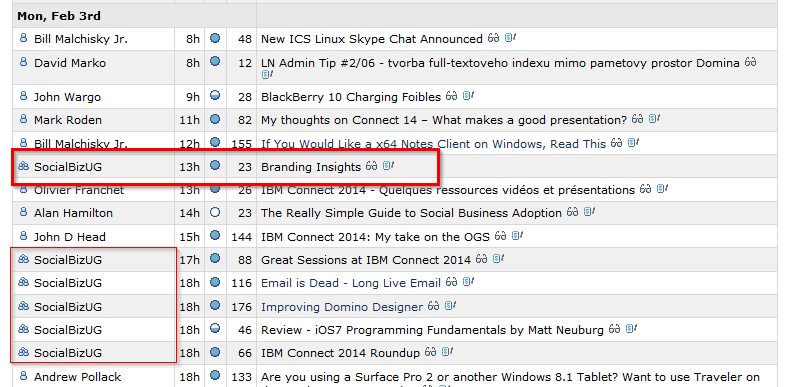 See the post outlined in bold? That's a post from Kramer Reeves. Or as you may know him, "the new Ed Brill". But you wouldn't know that from that screen shot of PlanetLotus right? No. because
every single post coming from the SocialBizUG site is practically anonymous
. Now, I know this is Connections, and I know you know that I rate Connections just north of monkey poo, but the long lived BleedYellow site didn't have this issue (and it too was based of Connections) so it is something SocialBizUG are actually doing. On purpose.
Why is this an issue you ask? Well, over the past few weeks there have been several (many?) posts asking where we get the information that Ed used to disseminate. We apparently have a new outlet (Kramer literally has Ed's old job), but you never know it unless you clicked on
every, single post ever created on SocialBizUG.
So, SocialBizUG, please, please, please fix this and list the author as the "poster". You may make me like you a smidge more. Just a smidge mind you. This is not an offer to get engaged or anything......