Over that past few weeks I've lamented on Twitter that since an upgrade to Domino Firefox 3.x no longer worked with iNotes "full". Despite my pleas for help, it seemed I was the only one on the planet having the issue. Eventually I got bored and called Lotus Support. As is usually the ways with these things,
it was not a Domino issue
.
The symptoms of this issue were:
When I hit the send button in iNotes the spell check will fire but the message would never send. I just comes back to the screen with the entire message as if I'd never hit send. Rinse and repeat.
iNotes Lite in Firefox 3.x worked fine
iNotes (all modes) worked fine in Firefox 2.x
iNotes (all modes) worked fine in Internet Explorer 7 and 8
Basically this was a classic WTF issue!
So working with the excellent Lotus Support people they eventually tracked down the issue to a Firefox 3.x bug. This bug only surfaces with compressed (via gzip) java archive files. Default Domino installations do not have this issue. If you use the web server defaults then you will nave no issues. However I like to play :)
I also like to be a bit of a "bandwidth conservationist" and will do anything I can to reduce the amount of data sent down pipes from my servers. This is where I fell foul of a new R8.x setting for Domino web servers and the Firefox bug. See I had compression turned on in the Internet Site document: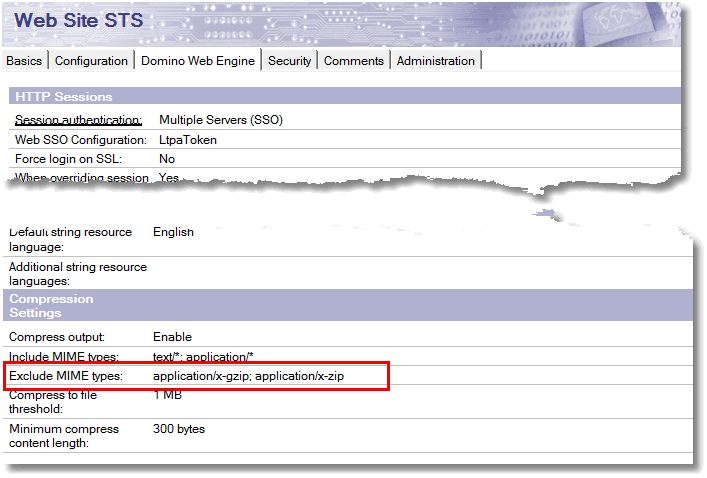 And this is where Firefox 3.x chokes. To fix the issue, either disable "Compress output" (not for me, I'm a conservationist damn it!) or add the following to that field:

Either way, bounce HTTP and iNotes "full" and Firefox 3.x now work as expected.