Either I'm not on a specific mailing list, or I need to read the managed beta and/or DP forums more closely, because over the weekend the NDA for 8.5.2 was lifted for 8.5.2 CD (code drop) 4 and later.
This post is about beta software and as such there is no guarantee by IBM that these features will be in shipping code.
Anyway, with
Erik Brook's
post about the NDA being lifted, I toodled over to the forum, and sure enough there was a comment from Ed allowing use freedom......
So, how does 8.5.2 CD 4 look? Very nice. The client seems a whole lot snappier on my Thinkpad, with emails opening at a cracking pace. As both
Stuart McIntyre
and
John Head
have blogged about, you can now have colored icons of various types and colors. One less thing to use to bitch at the LS11 "Beat the Developers" session ;)
For XPages, see Erik post above, but the ability to tie an agent to an in memory XPage is well overdue ...
Stuart also
posted
about the new, multi-threaded replicator page that is pretty neat and just zooms along.
So what else? Well, my favorite new shiny ball of tin foil is local replica control by the administrator. Yes, yes, yes, local replica control by the administrator has been pretty bad, but keep reading......I had alluded to this in a comment on my
use a local replica post a few weeks back. With 8.5.2 an administrator can completely control the use, and options of a local replica via policies. See the screenshot below of the new 8.5.2 additions to the Desktop Policy Settings document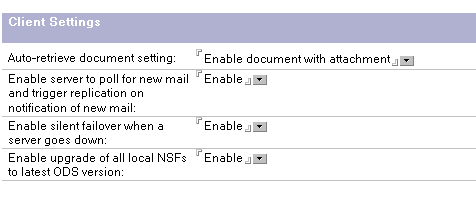 As you may recall from my
Remember to ODS51 local files post, it is a pain to convert local mail file users to ODS51. Well, IBM have just taken care of that for you. All the bitching and moaning that goes on around local replication of mail has been solved. Period.
Not just that, but take a close look above and you'll see a pretty cool option for triggering automatic replication when new mail has arrived. Pretty cool. And the "Silent failover" should reduce the ridiculous amount of pop up boxes a user sees when clustering faila over. Oh, and the Quickr icon has changed again:

For now that is is. Make sure to checkout
Planet Lotus
for other posts around 8.5.2 coming out of the closet....so to speak.